We are all familiar with making New Year's resolutions and committing to change on at least one important thing in our lives.  In the previous article, I gave a few exercises to help you make a good assessment of your 2015.  In this article, I will explain why we have a hard time keeping these New Year's resolutions and also provide some strategies to help you finally keep your commitments.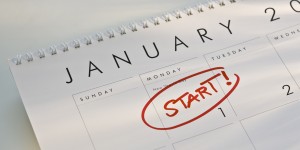 Before we do that, you can start by asking yourself the following big question:
Do I want a repeat of the last year, or do I want to innovate?
Why New Year's resolutions are hard to keep
A 2007 study by Richard Wiseman from the University of Bristol involving 3,000 people showed that 88% of those who set New Year's resolutions fail.
Let me explain why we often fail at doing our resolutions. There are two types of changes, the second of which is very difficult to achieve:
Technical change:
It refers to simple changes we can usually make on our own as long as we get the proper information.
Adaptive change:
It is a change that requires us to adapt or grow. We need to shift our mindset, our beliefs, our assumptions, and our behaviours.  Adaptive change takes time and a lot of effort.
Most of the changes we identify as a New Year's resolution are adaptive changes.  For instance, people want to quit smoking, lose weight, get in shape, improve their relationship with their significant other or a family member, and so on.  We rarely identify small changes (technical changes) because we know we can make them quite easily. But we always identify something that will make a big difference in our lives.
These adaptive changes require a major shift on our part and take a long time before providing results. That's why they are so hard to keep.
Here are a few strategies to help you
In order to succeed and keep your commitments, Marshall Goldsmith suggests that we either need structure (adaptive solution) or self-discipline (technical solution).  If we don't have structure we have to rely on self-discipline.  However, we greatly overestimate our capability at self-discipline. When we are tired, depleted, or angry, self-discipline goes away. And the more structure we have, the less self-discipline we need.
Strategy #1: Discipline and persistence
Even though a technical strategy by itself won't solve an adaptive problem, it can be part of the overall solution. Some information can be very powerful. Here are a few examples.
According to Jim Rohn:
"Success is nothing more than a few simple disciplines, practiced every day; while failure is simply a few errors in judgment, repeated every day."
He goes on and says:
"We must all suffer one of two things: the pain of discipline or the pain of regret."
Once you have started, make sure you don't quit.  Napoleon Hill noted in Think and Grow Rich that:
"There is no substitute for persistence! It cannot be supplanted by any other quality!"
Therefore make sure to persist and you will reach your desired result.
So if you are a very disciplined person, the information above should be enough to get you going and reach success.  However, if you are not disciplined, you will need a structure.
Strategy #2: Having a structure
In addition to the information above, here is what I suggest as a structure:
Make sure the reason why you want to make this change is very strong. A "why" generated by emotion can be a very powerful motivator.
Put your commitments on a sheet of paper and post it somewhere you can see them several times per day, such as on the fridge or beside the mirror in the bathroom. This will remind you every day about what you need and want to change.
Put it on your calendar, in your schedule.
Make your goal public and keep people informed about your progress. This will increase your accountability.

When you will meet "your public", they will ask you where you are in the process and they will encourage you.

Take action every day.

Take the first step, start at the bottom of the mountain and break it into small goals which lead toward the big goal. Instead of focusing on the destination–the summit– focus on accomplishing the next step.  When Terry Fox was asked how he could run for so long despite the pain during his marathon of hope, he said, "I just focused on reaching the next telephone pole."
Despite the two strategies above, you might not be able to do it on your own.  If this is the case, you will need professional help from a coach. The coaching process is perfectly suited to address adaptive changes and help people reach difficult goals.
Now that you know the difference between technical and adaptive change, and you have a global strategy which includes technical and adaptive components, you will be better equipped to keep your New Year's resolution alive and reach your goals.
I wish you the best for 2016 and great success with your New Year's resolutions!