There is a good reason why many employees shudder at the thought of going on a team-building exercise. If not organised and designed appropriately, it can easily turn into an experience seen as a complete waste of time and energy, which eventually leads to frustration. That is, of course, the complete opposite of the desired goal.
On the other hand, the potential benefits of a well-thought-out team-building experience are so great that they deserve the effort you have to put in organising such an event. Australian companies have been using this method of creating a better atmosphere and team spirit among their employees for years and here are some of the best ideas they've tested so far.
Escape rooms
What happens when you create a team and lock its members in a room, giving them some random clues, which should help them find their way out of the room? Well, they start working as a team and, oddly enough, you can even see which team member has the potential and qualities of a leader. The fact that there are more and more escape rooms being opened all over Australia testifies to the fact that they actually serve the intended purpose.
Road trip
If you only think back to the days when your school organised field trips and excursions, you'll realise that you had some of the best time and formed close friendships. Well, there is no reason why similar effects can't be achieved now that you're no longer at school. Needless to say, you need to choose a fun destination and plan the activities there, but the journey itself is also a great opportunity for your employees to establish stronger bonds. For example, you can rent a comfortable bus from Canberra to Sydney and organise a weekend trip to the most cosmopolitan city down under.
Paintball
Although it may not appeal to everyone, paintball has been among the favourite team-building activities for many years now. Essentially, your colleagues will have to practice their teamwork and decision making and they'll be so preoccupied that they'll forget about any problems they might have at home or work. With so many paintball fields across the country, you can even have it as a regular activity if your employees like it and visit a different paintball field each time.
Bubble soccer
One other fun activity is bubble soccer, a team "sport" that requires the players to work with each other in a very difficult, yet entertaining environment. Actually, it's so much fun that laughs are guaranteed as players start bumping into each other and falling. With bubble soccer fields available all over Australia, it would be a pity to miss out on the opportunity to make your team-building experience memorable.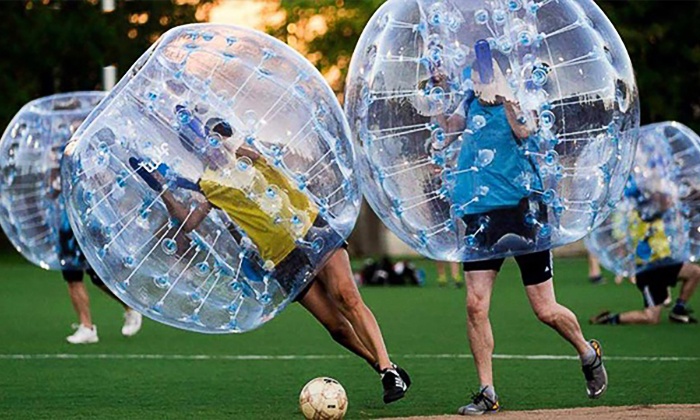 Movie- and music-making
Some companies like to organise events where employees have a chance to create their own movies and Australia provides fantastic settings for such projects. People are divided into teams and given a certain amount of time to create a short movie, which is later screened before all colleagues.
Alternatively, if there are people who can play an instrument or sing well, you can organise a session where they would perform in front of other employees. Some companies encourage their workers to express themselves creatively and if it brings benefits to the team spirit coupled with quality entertainment, there's no reason why you wouldn't at least consider this option.
With so many different options that Australia provides, it can be a daunting task to choose the right type of activity to boost the morale of your employees. Still, if you just put your ear to the ground and find out what they would enjoy doing, you'll be rewarded with some amazing results.