Being tied to a workstation and spending hours in a sterile cubicle is nobody's idea of having a good time. To breathe new life into the organization and break the routine, many businesses take advantage of team building events. Namely, a well-designed and delivered program can work wonders for companies of all shapes and sizes, giving people a much-needed push. This tends to increase the overall team performance and employee satisfaction and morale. So, make sure to give people a proper warm-up and then a refreshing icebreaker.
Setting the stage
First of all, think about the purpose of organizing the whole thing. Beyond everything else, it should enable everyone to bond on a meaningful level, freeing them from the usual constraints and rigidity. Moreover, companies that play it smart are able to promote cooperation across teams and encourage open communication. Another benefit is that you get a chance to communicate your company's vision, mission, and values.
To make it all happen, make good use of internal communication channels to get everyone pumped and spark curiosity. Share a list of talking points, ground rules, and issues to structure people's expectations. Involve people in the process of creating business presentations or entertainment points. You can set the tone with an inspiring and uplifting theme. It should echo the main goals and strategic orientation of the company as a whole.
In balance
Escaping the stale corporate environment gives people a chance to unwind and have fun. Hence, getting personal and informal is necessary to chase away the drags that prevent people from opening up. Still, it is not advisable to dwell too deep in the light and sappy territory because you could distract from the main messages. People should remain aware of the business backdrop.
Besides, team building is supposed to lead to better understanding of requirements and objectives and alignment of individual aspirations and contributions. Do not shy away from facing the challenges and the struggle your employees experience. At the same time, leave some room for spontaneity and casual interactions. The art of balancing between extremities is the key to success.
Set the wheels into motion
Once you have the basics in place, determine the type of event that best serves your goals and small business needs. Factor in the budget, time constraints, complexity of activities, and your company's culture.
Note that the event should not be too physically and mentally demanding. That being said, physical activities that take place outdoors are always a sound choice. Therefore, consider hiring a shuttle or minibus to open up new horizons. This can help you organize activities like long-distance excursions and exciting snow bus trips. Likewise, ponder mountaineering, skiing, resort time, kayaking/canoeing.
The list of ideas is long and includes improvised workshops, cook-offs, board game tournaments, karaoke nights, sports games, laser tag, etc. If you lack time yourself, feel free to hire professionals and outsource organizing tasks. Let them draft, facilitate, and administer activities.
Leaving a mark
Whatever you do, always break up "hard work" and serious sessions with team games, discussions, and outdoor exploits. Make sure the activities are well-sequenced over the course of the day and evening. End the event on a note of confidence and passion. Finally, bear in mind that a team building event is not a one-time cure-all.
Think of them as an opening ceremony to what should be a long-term success of a flourishing organization. So, do a follow-up session to solidify the lessons learned and celebrate good memories. Provide enough time to process and talk about what went down. Use photographs and videos to capture moments and extend the impact of the event.
Also, make an effort to quantify the impact of team building efforts. Rely on objective statistics and compare them with historical data. Make it count.
On the same page
Organizing a stellar team building event requires quite a bit of planning and commitment. That is the only way to reap the incredible benefits for the business. So, lift the spirits and give people an opportunity to get away from the workspace both mentally and physically. Events should not be overly formal, taxing, or mindless.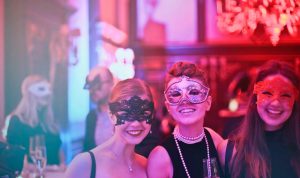 Make an effort to strike a fine balance between entertainment and other values. Pick a theme that hits the mark. Throw in warm, fun, and social ingredients into the standard business mix. Implement feedback and evaluation components to assess the effect of the team building strategy.