Outsourcing is an efficient way for small and medium businesses to minimize the costs, save some money and delegate more important tasks of the business. Anything from project management to PA jobs is now being outsourced. When a business' workforce is small, it means that the employees are constantly pressed for time, and they can't keep their website, newsletters, and blogs up to date.
How to keep juggling different tasks and be a business owner at the same time? How to manage social media and marketing while focusing on sales and lead generation? In 2017, outsourcing has become more than just a common business practice. By hiring an external expert, you don't need to fund, equip, and train a whole in-house department, which makes it cheaper and more convenient. The most common areas business owners outsource are web design, accounting, and customer support, but there are other practices that perhaps you didn't know you could outsource as well.
1. Manufacturing
Many how-to guides and explanations on outsourcing usually advise to perform the core tasks in-house. However, many major companies outsource production because the raw materials and workforce are more affordable abroad. Although there is no doubt that it is best to deal with production on your own, no one can deny the cost-efficiency of outsourcing manufacturing.
2. Transportation
When it comes to employee transportation, many companies prefer to get their own vehicles. This rarely turns out to be worth the cost, while the greatest benefits of outsourcing transportation would be reducing your carbon footprint and the chance to label your company green. Handling it in-house is cheaper in the long run, while outsourcing is momentarily more affordable, so make a choice that suits your business best.
3. Presentation design
Presentation design is also being more frequently outsourced. Although business owners know how to run a business and they do it great, they still have to be able to communicate their ideas to potential investors. Managing to get an investor to your side is important when you want to scale the business up, so you need them to understand everything the way you intended by framing your thoughts in a compelling and engaging format. Consider outsourcing presentation design services in order to communicate a message clearly, as these experts can help you put together a presentation in the best way possible. Seeking help from someone who understands how persuasive your presentation needs to be is crucial, so outsource it if you don't have the luxury of time to do it yourself or you need it on a short notice.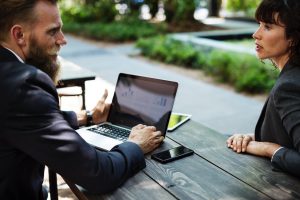 4. Telemarketing
Telemarketing can't make the same impact and stand-alone results as it did in the past, but it can still support your digital marketing strategy. If you want to enhance your digital marketing efforts and boost your website traffic, you can definitely use telemarketing. If your staff isn't trained for it, then you may risk annoying people on the phone instead of making them interested. So, consider outsourcing the telemarketing services when you need the help of an expert.
5. Research and development
When it comes to research and development discoveries, instead of using them, some companies decide to sit on their most valuable ones, hoping that competitors will make a copyright violation by stumbling upon it by chance. A lot of companies jealously guard their prototypes. This is what makes outsourcing this aspect of business a somewhat controversial idea, but it takes a lot of work nonetheless. You need a team to perform financial analysis, market and demographic research, and other complex activities. Thus, outsourcing this part of work is what most companies find to be more cost-effective and efficient.
Choosing between a freelancer and an agency
By hiring an agency, you get a team of trained professionals that can be replaced easily in case they don't meet your expectations. There are more people that can be in charge of monitoring the progress of work and solving issues.
On the other hand, a single freelancer can rely only on himself, meaning there can be setbacks if they fail to complete the project. A freelancer can't be expert in everything, so you'll probably need to hire another one (or more of them) to cover everything you need. Thus, hiring a team can save you both time and money. Whoever you choose to hire, make sure that they're reliable and dedicated workers.
The list of tasks you can outsource is a lengthy one. If you see a safe and secure way for outsourcing work, make sure you get someone else to do it for you to ensure quality and cost-effectiveness.