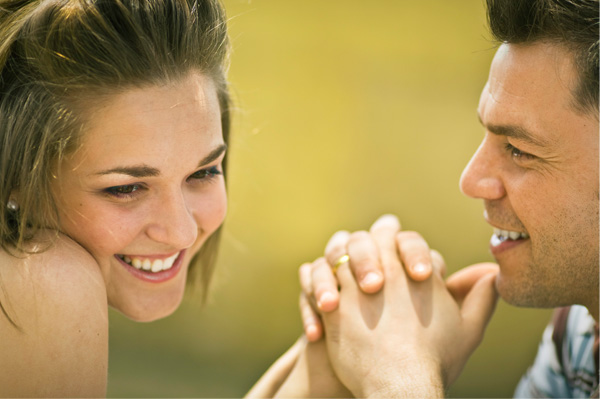 By: Lori Ann Davis, MA, CRS.
Whether you are new to the dating scene or are in a long-term relationship, one thing remains the same; flirting is still key to expressing your affections towards someone! We all know that communication is one of the most important aspects of any relationship, but who said it has to be all talk?  Flirting can be verbal or nonverbal and can involve body language, touching and eye contact among other things.  And, the good news is that flirting is essential for married couples.  Flirting brings out our masculine and feminine energy, which is what draws us to each other and causes the sparks to fly.  It can make us feel alive, and it is fun!
So, how do you flirt?  Is it something that you are comfortable with?   The good news is that flirting can be fun and simple with a few helpful suggestions!
Ways to flirt:
Flirting can be as simple as catching someone's eye and smiling, lingering there a bit longer than you usually would and then looking away.  Then say" hello" and start up a simple conversation.

Keep the conversation positive and be happy. Smile and have fun.

Make direct eye contact. Look at their face and when they seem excited about something they are talking about, ask more questions. Give them your full attention.

Look for opportunities to compliment them.

Be confident but not overly confident. You don't have to tell them all about yourself or all the things you have accomplished. Just feeling good about yourself makes you attractive.

Tease them a bit, but be careful not to go overboard. The more you know the person, the more you can use this approach.

Casually touch the other person's arm or hand. Linger there for a moment more than you normally would.

When flirting, remember to act like a lady or a gentleman or it is not seen as flirting and will have the opposite effect. It might chase the other person away instead of drawing them closer. OR it will get you the wrong kind of attention. Remember, flirting should be subtle in nature.

Mimic their body language.

Relax, stop worrying about the outcome and just have fun!
Flirting in long-term relationships or marriages is also very important. It helps to keep the relationship alive. When the relationship is no longer new and the romantic phase starts to end, the "feel-good" hormones start to decrease. We get more comfortable with our relationship and with each other. This has benefits, but it also can lead to a decrease in our desire for intimacy with our partner. Intimacy takes a back seat, playfulness decreases and we focus on other things.  We can start to take the relationship and each other for granted. We stop "dating" each other. We don't put as much effort into the relationship.  We may feel like we no longer need to flirt, but the opposite is true.
Flirting can trigger those "feel-good" hormones that we had in the beginning of the relationship. It is important to remember why we fell in love in the first place. Men who are not flirted with are not as happy. Men need to be happy in a relationship in order to want to stay. Ladies, this is a great way to show your guy how much you care about him and how much you desire him!  Guys, it tells your lady that you would choose her again as your mate and that you still find her attractive and sexy. This is so important in creating an unstoppable relationship!  It will have the added benefit of making you both feel more alive, and it is fun!  We need this kind of fun and playfulness in our relationships.
Flirting with your partner can a look a little different than when you first met. It can be more overt in nature and more risqué! Feel free to flirt in any way that you and your partner are both comfortable with. Here are a few suggestions!
Flirting with your spouse:
Smile and look at your partner with that "look" that says "I want you; you are mine."
Use lingering touch, but this can be more risqué than when you are dating.
 A kiss hello or good-bye but instead of a quick kiss, make it a lingering one.
 Comment about how nice your partner looks.
 Tease them, but make sure they are enjoying it as well. Be careful not to go overboard.
 Text them during the day to build anticipation and let them know what you have on your mind. This can be as subtle or as obvious as you both are comfortable with.
Remember that flirting comes in a lot of different forms, but the most important thing is to keep it light and playful. With dating, keep it simple and enjoyable.  With long-term relationships, learn what your partner likes, and use it to your advantage.  Use flirting to make the next move in dating or to keep the sparks flying in your relationship!
"Lori Davis is THE experienced coach to turn to for authenticity, empathy, and expert help for those seeking answers to unmasking relationship issues."
Lori Ann Davis, MA, CRS
Certified Relationship Specialist
704-999-1781
Radio Host, TUNE IN-
 Listen Live 24 hrs a day!  
Ask Lori
 The WGIV & WDRBmedia signal is broadcasted through networks with over over 40 million listeners!