Whenever I talk to people about my 8 month-long trip to Europe & Argentina, they tell me that I'm very fortunate to be able to do this.
So I tell them:
If I told you that taking this kind of journey is just like taking a break (timewise) and having a cup of coffee (moneywise), what would you say?
Usually they give me a quizzical look and say they don't understand. Then I laugh and explain what I mean.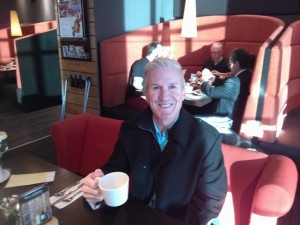 MONEYWISE
I ask them, do you have any idea how much that trip cost me for the 8 months I spent travelling?  No, they would often say.
In order to help them, I ask: what is the average price for a weekly trip in the Caribbean or Mexico?
Let's say it's 1,250$/week. Therefore, the total cost for 8 months would be:
32 weeks times $1,250/week = $40,000.
At this point everybody tells me:
I can't afford that! I don't have that amount of money available, or;
I don't want to use my economies or my RRSP because I will need them for my retirement.
The list of reasons goes on and on.
Ok, I understand you don't believe you can afford this.
I want to show you that though this amount of money seems very big, it's actually not that big at all.
Let's look at it from a higher level.  Say, over a period of 30 years.
     Let's take someone who earns $50,000/year.  Over 30 years, they will earn a total of $1.5 million. After income taxes, their net revenue over 30 years (around 73% in Canada) will be close to $1,100,000.
     Now, what is $40,000 compared to $1,100,000?
It represents only 3.64% of all this money… Now, do you still believe you can't afford this trip???
Let's break it down a little bit more.
How much do you think this trip would cost if you would spread your costs on a daily basis over a period of 30 years.
After calculations, this trip would only cost you $3.66 a day…
Yes, only $3.66/day. 
Ok, it costs little bit more than a coffee, so let's add a muffin.
Conclusion:  for someone who earns $50,000/year, they would only need to save $3.66/day for 30 years to afford a trip like mine.
Now, do you still think that you cannot afford such an adventure?
It does make sense now, but how can I find 8 months in my life???
TIMEWISE
Let's break this one down as well.  If we use the same logic and the same type of calculations we will get this:
What is 8 months compared to a period of 30 years?  Answer: 2.2%
Now, let's go back to the coffee analogy and see what 2.2% means if we break it down on a daily basis.
What is 2.2% of 24 hours?  Answer: 32 minutes.
Don't you think everybody can take a 32 minute break during the day and buy a cup of coffee?
Therefore, when you break this problem down to a daily basis, this would only amount to a cost of $ 3.66 and a duration of 32 minutes per day.
So, if you are telling me that you cannot afford to take 8 months and spend $40,000 once in your life to go on vacation, it's like telling me that you cannot afford to take a break and buy a cup of coffee (and a muffin) every day of your life!
LESSONS LEARNED
What I wanted to do in this post is to show you that when we tell ourselves that something is impossible, sometimes just using a different perspective can shed light on the problem and bring us to a solution we never thought of before.
     Lesson #1 — Before thinking something is impossible, look at it from every angle or break it down into smaller pieces.
     Lesson #2 — If taking a break is significant for a day, it should be even more significant in your whole life.
     Lesson #3 — To achieve big goals, plan for the future and act on it a little bit every day.
So, next time you take a coffee break, think about it!